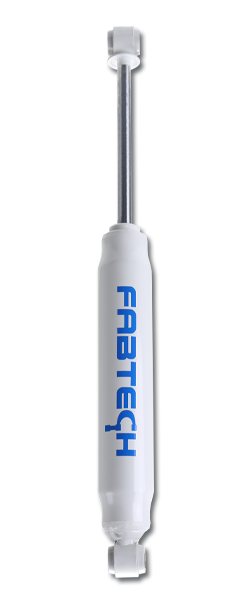 PERFORMANCE TWINTUBE SHOCK
---
Fabtech Performance Shocks have been designed to work in conjunction with each of our suspension systems, resulting in superior ride control. Features include high velocity 9-stage valving for excellent dampening capabilities and a closed cell insert to reduce shock fade at high speeds.
• Twin Tube Hydraulic Construction
• 9/16″ Hardened Chrome Piston Rod
• 1 3/8″ OD Piston
• Closed Cell Foam insert
• High Flow 9 Stage Valving
A twin tube shock absorber consists of a thin wall inner pressure tube and outer reserve tube. The inner tube houses the valving components, piston and base valve, and is where the damping forces are generated. The outer tube acts as a reservoir for displaced fluid from the shaft volume during the compression stroke. Also contained in the outer tube is a foam sleeve or gas bag that contracts and expands with respect to shaft displacement to eliminate air pockets and increase the performance of the shock.
PERFORMANCE STEERING STABILIZER
---
Using the same construction as our Performance Shocks these Performance Steering Stabilizers will reduce front end shimmy from oversized tires and wheels. Easy fit heavy duty bracketry allows for a quick installation. Available in single and dual stabilizer applications.