6″ RTS® Lift Kit w/ Performance Shocks – K1161
Description
2020-24 Chevy Silverado 3500HD | GMC Sierra 3500HD 4WD
This high quality 6" lift kit for the GMC Sierra and Chevy Silverado 3500HD has been designed to improve the offroad capability of the vehicle while providing a smooth highway ride. The Fabtech lift kit retains the factory load carrying capacity of the vehicle that is perfect for owners that use their truck for towing and hauling.
The heart of this lift kit is Fabtech's cutting edge RTS® design. The RTS® is a bracket system that keeps the torsion bars in the factory location while providing lift. This feature provides superior ground clearance at the frame as there are no torsion bars hanging down to become high centered on or damaged when offroading. It provides a very clean appearance to the vehicle.
Another important aspect of this GM 3500HD lift kit is the lower control arm crossmembers. They are arched at the bottom to provide ground clearance and have a skid plate to protect the front differential against offroad obstacles. The crossmembers and bracketry are built with 1/4" thick steel that provides strength and rigidity to the vehicle's suspension.
The superior build quality and design of the components allows for a fast installation time with only four holes to drill and no cutting of the front diff housing.
This heavy duty GMC Sierra and Chevy Silverado 3500HD lift kit is built with the highest quality components and is designed to provide years of trouble free service while offering a great ride.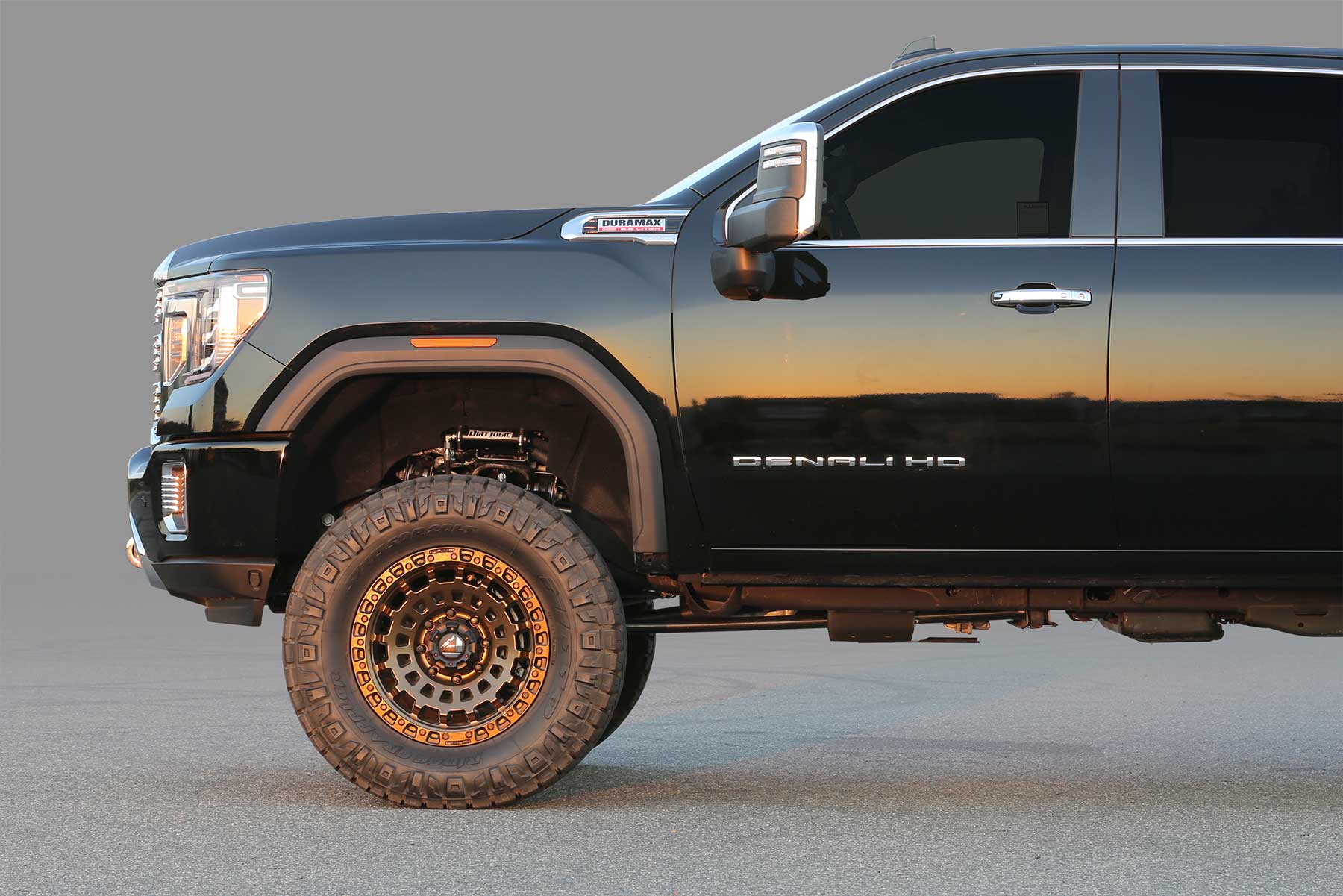 Fabtech RTS® Lift Kit
A proven bracket system that retains the torsion bars in the original position for protection while providing lift and a clean undercarriage appearance.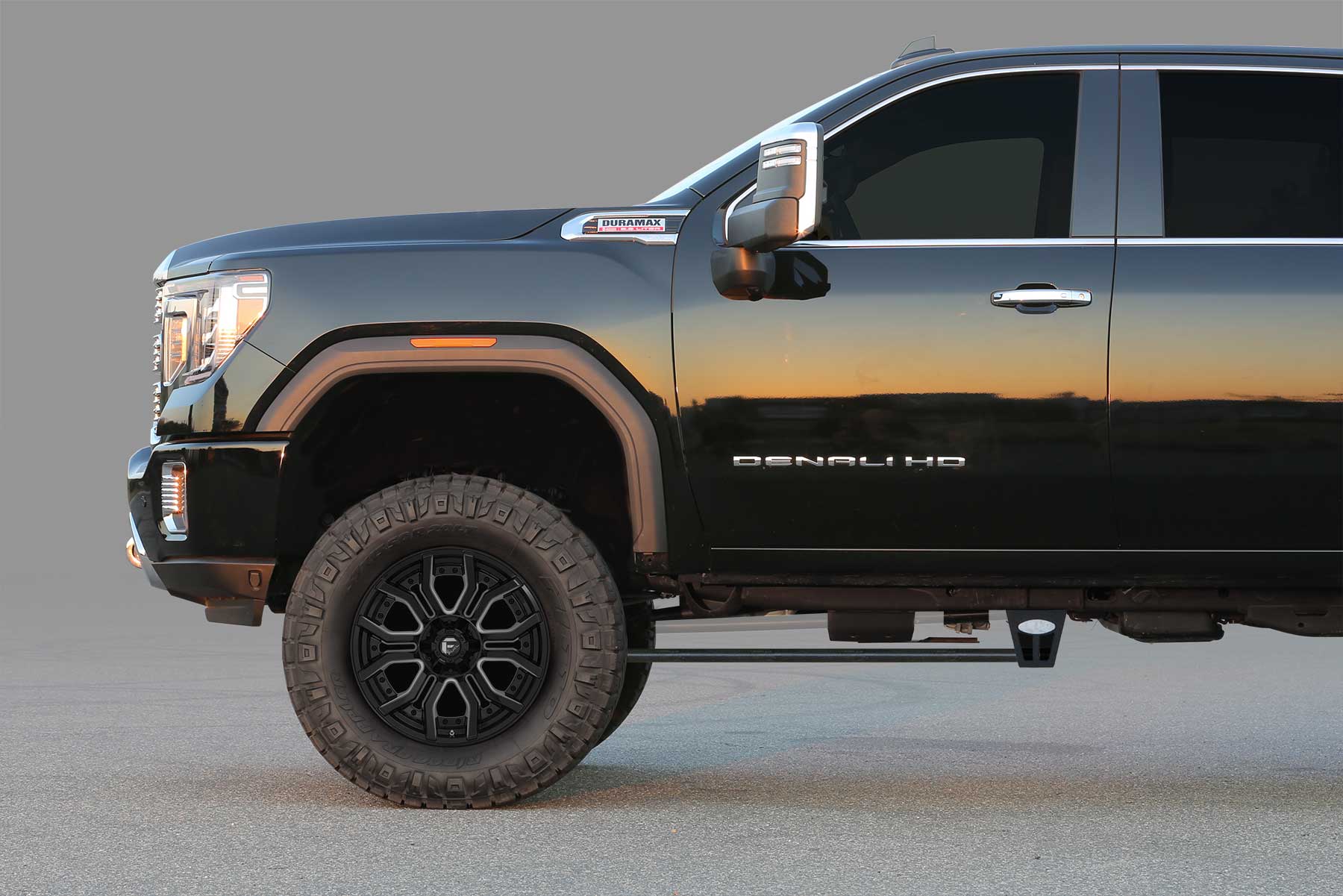 The Competition
Other lift kits leave the torsion bars exposed, which reduces clearance and adds risk of damage.
---
Features
Torsion bars remain in the factory frame location for maximum ground clearance
RTS® Torsion bar brackets index the bars at factory setting for a smooth ride
Heavy duty bracketry constructed of 1/4" thick steel for additional suspension strength
Near factory track width helps keep tires under the fenders
Front & Rear bump stop brackets eliminate over cycling of suspension
Optional Uniball Upper Control Arms
CROSSMEMBERS
1/4" thick steel lower control arm Crossmembers are arched for maximum ground clearance. The welded box design of these Crossmembers provides additional strength to the front suspension. Retains factory alignment cams for easy adjustment.
STEERING KNUCKLES
Fabtech's extended length ductile iron Steering Knuckles provide zero bump steer throughout the suspension travel. This provides an enhanced driver experience compared to stock. Near stock track width keeps the tires under the fenders for a clean appearance.
TIE RODS
Oversized tie rods are provided to replace the stock units that are designed to handle oversized tires.
SKID PLATE
A heavy duty front differential Skid Plate is constructed of 1/4" thick steel to protect the diff from offroad obstacles.
DIFFERENTIAL MOUNTS
Heavy duty Differential Mounts properly reposition the front diff for the precise CV and driveshaft angle to reduce driveline vibration at high speed.
SWAY BAR MOUNTS
Heavy duty mounts reposition the front sway bar for on road functionality and no bind for offroad use.
Front & REAR BUMP STOP SPACERS
Steel brackets relocate the 4 front and 2 rear compression stops to align with the factory closed cell bump stops to control the travel and eliminate over cycling of the suspension.
REAR LIFT BLOCKS
4" tall rear lift blocks replace the factory blocks for additional lift without changing the ride quality or load carrying capacity. This block height helps level the truck front to rear.
REAR U-BOLTS
U-Bolts designed to attach the entire rear differential to the vehicle. A critical part that demands the best quality for your vehicle.
Performance Shocks
Extended length twin tube shocks provide a good highway ride with the ability to handle offroad use.
Part Numbers
| Qty | Part # | Description |
| --- | --- | --- |
| 1 | FTS21277 | Component Box 1 |
| 1 | FTS21278 | Component Box 2 |
| 1 | FTS21280 | Component Box 3 |
| 2 | FTS7358 | Front Performance Shocks |
| 2 | FTS7240 | Rear Performance Shocks |
---
–
California Prop 65 Warning
---
FOOTNOTES

14. Can not use OEM wheel and tire.
20. Does not fit standard cab models.
167. Diesel models only.
199. Does not fit GMC AT4 or Chevy Trail Boss models.