Cargo Rack – FTS26095
Description
2015-23 Toyota Tacoma 2WD/4WD
Fabtech's Toyota Tacoma Cargo Bed Rack is a heavy duty, mid height rack designed to hold additional cargo with optional mounts for trail tools and bicycles.
Unlike the typical construction contractor looking bed racks that can make the vehicle feel top heavy when driving, the Fabtech rack keeps things low and compact. The rugged three piece design clamps to the bed deck rail system for a quick and easy installation. No holes to drill.
This multi-function Tacoma bed rack is great for additional cargo storage above the bed rail leaving the entire bed floor open.
Predrilled holes in the bed rack allow the installation of the optional Fabtech accessory mounts. Quality bolt on mounts allow for a Hi-Lift Jack, Shovel, two RotopaX, two Bicycles and two Tread Boards to be mounted. If you opt for no accessory mounts, the rack can be installed with the predrilled holes against the back of the cab so there are no unsightly empty holes showing. Clean and sleek.
There are many Toyota Tacoma bed racks on the market but none have the versatility, strength and style like the Fabtech bed rack.
Three piece steel construction for maximum strength
Supports up to 150lbs of cargo
No drill installation
Load area dimension – 20" x 37"
Bed Floor to bottom of rack – 24"
Accessory Mounts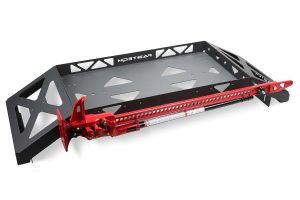 Heavy duty mounting hardware securely fastens a 42" tall Hi-Lift jack to the back side of the Fabtech bed rack. Large clamping knobs allow for a quick on and off feature. The mount allows for the installation of a small padlock (not included). Mount only. Hi-Lift jack not included.
$80.14Add to cart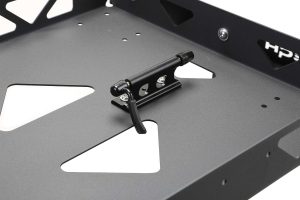 The one piece billet aluminum mount features a cam lever to securely clamp the front fork of most bicycles to the Fabtech bed rack. The Fork Mount is designed to be attached in two different positions. In the center of the rack basket or with the included brackets behind the cargo basket area as not to interfere with cargo space in the basket. The mount is for one bicycle. Bicycle not included.
$72.67Add to cart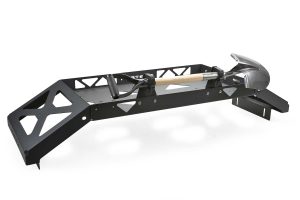 Simplistic steel brackets utilize large rubber clamps to mount a shovel for easy access. The bed rack is predrilled to accept these mounts for a quick installation. Mount only. Shovel not included.
$87.63Add to cart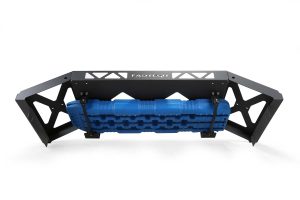 This universal tire traction board mount will accommodate virtually all types of tire boards up to an outside dimension of 47"L x 14"W x 4"H. Heavy duty brackets allow two boards to slide in and are secured with high quality rubber straps for rattle free mounting. Mount only. Boards not included.
$159.23Add to cart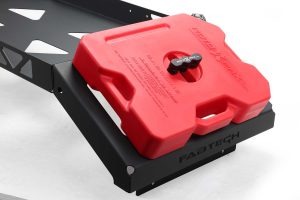 RotopaX Mount Ready
The Fabtech bed rack is pre-drilled to accept two RotopaX 1, 2, or 3 gallon fuel or water containers utilizing the DLX, LOX, Deluxe and standard pack mounts. The flat area of bed rack for the RotopaX measures 13" x 20-3/4". Please see your RotopaX dealer to purchase the mount and container.
Part Numbers
| Oty | Part # | Description |
| --- | --- | --- |
| 1 | FTS26095 | Cargo Rack |
---
–
California Prop 65 Warning
---
FOOTNOTES

216. Fits models equipped with deck rail system only.